I've had a fitbit for years and have always enjoyed a gentle competition with my husband (which I ALWAYS lose) for steps. I started with the Ultra and when it fell apart I upgraded earlier this year to a new One. Earlier this month my company gave away Fitbit Flexes as part of a wellness program and I picked up a Jawbone Up just to see how it compared. Here are my observations.
Fitbit One
It is a similar form factor to the Ultra that I was used to wearing, the fitbit itself is much smaller and can either be carried alone or put into a silicone case and clipped to your waistband or pocket. I use mine in the case. I originally ordered the burgundy but decided immediately that I hated the color and switched for a black, it's much better. Charging it is more of a pain than the ultra, you have to take the fitbit out of the case to plug it into the USB charger then put it back in when you want to wear it. It normally takes me about 20 seconds to get it back in snugly. The display is an upgrade as well, it has a much clearer screen and tracks the same data as my ultra. All in all, I am pleased with the One.
Pros
It's small and I can wear it discreetly with all of my office clothes.
It has silent alarms (vibration) which I set to wake me up in the morning and when I want to be reminded to do something during the day. They are configured in the app on my phone so it's very easy to change them as I need.
It has bluetooth enabled so I can sync it to my phone and check my steps as often as I want during the day.
The battery lasts over a week on a charge and the app reminds me when it is time to charge it again.
It tracks steps, sleep, calories, active minutes, floors (stairs climbed), and distance traveled.
Great app.
Cons
It's is a little bit of a pain to put it in the case after charging.
Sometimes I will forget to clip it on my clothes before I leave for the day, and I feel like all of the steps that day are wasted.
Will randomly stop counting steps. I'll have the app open or be looking at the display as I'm walking and it will stop for a minute and then start back up again but not give me credit for the steps I took while it stopped.
Jawbone Up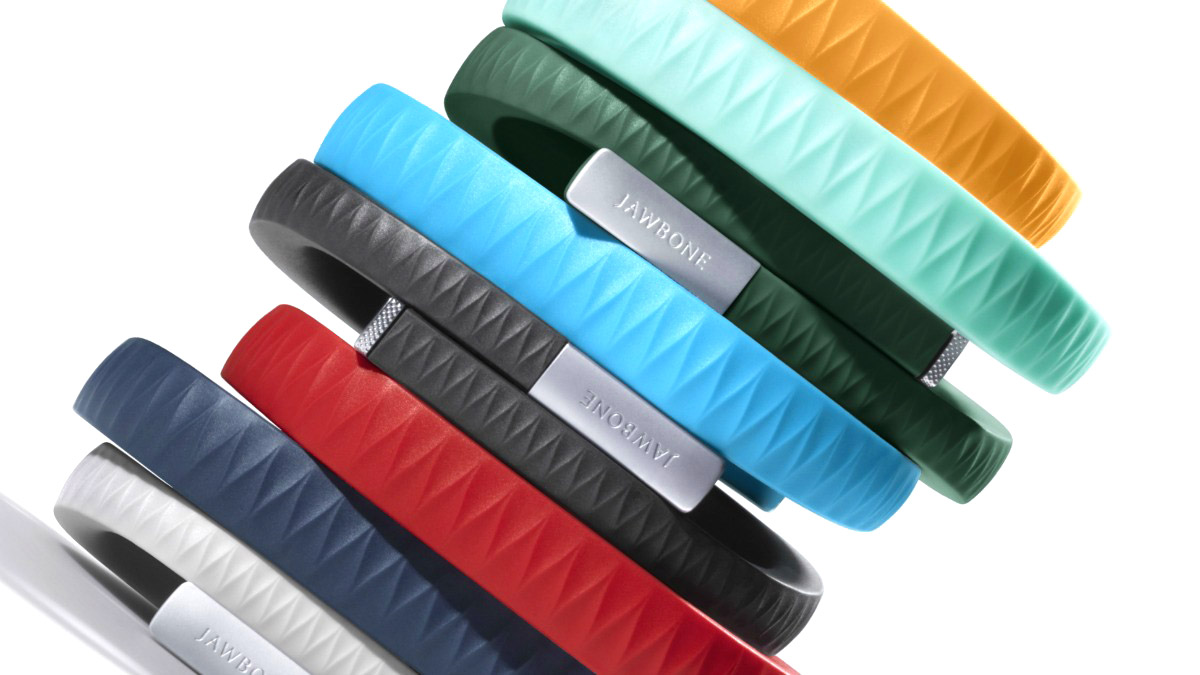 I picked up the Jawbone Up because it had a pretty decent rebate to try to clear stock for the newer models. In comparing the models the only difference between the Up and the Up24 is bluetooth syncing. I will say, that having to plug it in the sync was a pain but the price difference, $75, wasn't worth springing for the Up24. I like the design, it's sleek and felt more like a piece of jewelry than a fitness tracker. To sync or charge the band you pull the cap off of the end and plug it into your phone (to sync) or into the usb charger (to charge). There is a button on the opposite end to set the mode whether you're awake, asleep, or working out. There is an indicator but it is simply a flower for active mode or a moon for sleep mode; you cannot see your step count on the band, it HAS to be connected to a device to check your progress.

Pros
Nice design, comes in a good variety of colors.
The band comes in Small, Medium, and Large depending on your wrist and there's a handy measuring guide on the package to help you select the right one.
Tracks steps, distance traveled, active minutes, and sleep.
The app tells you how many days worth of charge is left on the band.
Cons
The plug in sync. This was fixed with the new version of the band for $75 more.
Doesn't track floors.
iOS app frequently crashed during sync.
Not as accurate of a step counter.
The band cannot be changed, so pick a color you'll love wearing every day.
Fitbit Flex
I like the convenience of having it on my wrist all the time, I haven't forgotten to wear it yet. I only take it off for showers and it's easy enough to remember to put it back on afterwards. The fitbit itself is tiny compared to the One and fits inside the band that you wear. It's even more of a pain to put in the band than the One is in its case. On the plus side, you can purchase multiple bands and wear whichever color suits your fancy from day to day. Unlike the One, the Flex does not track stairs but otherwise it tracks the same data as the One and uses the same app.
Pros
Comfortable to wear and interchangeable band comes in a variety of colors. There are even designer jewelery you can purchase to wear your Fitbit Flex in.
Tracks steps, sleep, distance traveled, active minutes, calories burned.
Has silent (vibration) alarms that can be configured in the app.
Can change from active to sleep mode by tapping on the band.
Indicator lights on the band show your progress towards your step goal for the day.
Syncs via bluetooth to your phone or mobile device.
Great app.
The batter lasts over a week on a single charge.
Easy to remember that you have it on before starting your day.
Cons
It doesn't track floors/stairs.
It is splash but not water resistant.
The fitbit is difficult to put in the band after charging.
Additional bands are $10 a piece for Fitbit official bands. 3rd party are available through other stores for less.
You can't see your actual step count without checking the app, the display only shows your progress towards your goal.
It feels like you're wearing a watch but it doesn't tell time.
How do they measure up against each other?
As a test I wore all 3 fitness trackers for a single day. I did get teased at work but it was all for science! Well, at least a minor curiosity of mine.
Step Accuracy
Winner
: One. I took a measure number of steps and the One correctly counted them every time (unless it froze up, see bullet above)
Loser
: Up. It was consistently way off in steps, on the low end too.
App functionality
Winner
: Fitbit. The app is well laid out, I can customize the main page for what I want to see, I can track my food and water intake, and challenge my friends in various step challenges.
Loser
: Jawbone. The app crashed several times when I plugged my Up in to sync. It would give me data on my activity but it was limited to steps and sleep.
Comfort
Winner
: Flex. The band is comfortable to wear and it's adjustable so it fits your wrist well.
Loser
: Up. The band is stylish but thick and rigid.
Final Laughs
On the day I wore all 3 trackers I synced them all at the same time to see their progress. These were the results. Basically, I don't think any of them are truly accurate but I wasn't expecting such a large difference in steps between the three. What it comes down to in choosing a fitness tracker is to get one that is comfortable that you'll use a lot. Even if it's not accurate it will be consistent so you will know which days you are more active than others.